Discover more from Logo Histories' Extra Issue
Unlocking graphic design insights and opinions from the past. Part of LogoArchive.
Over 1,000 subscribers
Annegret Biere, 1971
Hiroshi Koojitani writes about German designer Annegret Biere for Idea 109.
Thank you for joining Logo Histories' Extra Issue. If you enjoy this also check out and support these projects from the same team:

LogoArchive – Searchable modernist logo archive & research tool.
Logo Histories – Discover the fascinating stories behind great logos.
LogoArchive Shop – Vintage design books and LogoArchive Zines.
BP&O – Contemporary design editorial.
---
Discover this and other design magazines and books here.
---
Annegret Beier was born in Neisse, Germany, in 1940. In 1957, she moved to Bremen and studied two years at the State School of Arts and Crafts. In 1959, she moved to Düsseldorf and studied three years at the State Academy of Art and Design. She worked there as a freelance designer for several publishing companies. In 1963, she moved to Paris, France, and worked two years as a designer for ad agency Publicis and three years for design studio Delpire. In 1967, she moved to New York, U.S.A., and worked as an art director at De Garmo/McCaffery Inc., McAdams Inc. and Needam, Harper & Steers Inc. Then she worked three years as a designer/art director for Herb Lubalin and Lublin, Smith, Carnase Inc. In 1971 she moved again to Paris and has been heading the Herb Lubalin-Paris studio in association with Robert Delpire.
Logo Histories' Perspectives is a reader-supported publication. To receive new posts consider becoming a free or paid subscriber.
About her creative philosophy, Annegret Beier said: "I don't have any creative philosophy. Too much has been said already and I feel one should convince with work and not with words. If you read my biography, you will find that I like to move around, to live in different countries for different reasons, to meet new people, to learn to adapt, to enrich my mind. I spend, so far, the most important, difficult but successful time of my personal and professional life in New York, especially while working with Herb Lublin.
There are many females no less better than males in performing work. There are also many tender-hearted and pretty females. But it seems that few combine both. When I met Annegret Beier in New York for the first time, I thought she was it. was struck by her charms and captivated by her works.
In America, it is extremely difficult for a foreigner to obtain a working visa. It is equally difficult to find a job because of big differences in language, customs, etc. Under such circumstances, foreigners experience extra-ordinary difficulties in doing good work. Annegret was no exception, I heard. As I myself had similar experience in Paris-though not so hard as in America-I am glad to meet those people who are doing wonderful jobs in such untoward circumstances, and I really respect them.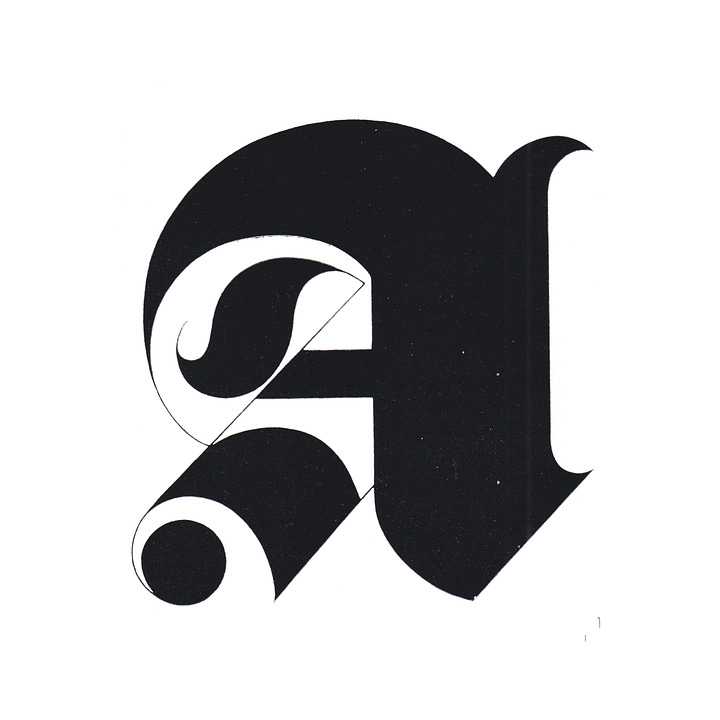 I assume that she started her career as a designer after coming to Paris, but her education in Germany eloquently testifies to her outstanding ability in composition or construction. While at Delpire, she drew a huge poster (for use in the Metro) for BNP (Bank Nationale de Paris). When I was told it was her work, I was impressed by the unbelievably imposing composition. My friend, a designer, was so much impressed that he stealthily tore off the poster at night, took it home, and pasted it over three walls of his room.
Annegret had left the Delpire design studio a little before I joined there, I had no opportunity to work with her. But whenever we talked about work, she was sharp, explicit, and so charming in the way of talking I could not resist her.
Both of us are cosmopolitan, and enjoy life as deracines wherever we go. In her case, as her works vividly tell, she appears to be enjoying her work most now.
When I met her in New York some time ago, she cheerfully told me she was shortly going to the Herb Lubalin-Paris Studio owned by Delpire and Lubalin as its chief. I imagine she must be free and active in Paris at present. I wish her to give full play to her extraordinary ability built up in New Yrok and create a big sensation in Paris-the place rather isolated from the European design world. The studio where she is now working is unique. Not only that, it is located in Paris.
That is why I expect much from her. I heard Annegret is going to design the cover of this issue. I am looking forward with keen interest to seeing her work which will show the refined European taste seasoned with the modernity of New York.
---
About Logo Histories' Perspectives
Logo Histories' Perspectives unlocks opinion and insights lost to time, buried within the pages of rare out-of-print design books and magazines. Through this series, you'll come to understand the challenges and opportunities corporate identity designers of the past faced to help you better understand design practice of the present. For Logo Histories, click here.