Discover more from Logo Histories' Extra Issue
Unlocking graphic design insights and opinions from the past. Part of LogoArchive.
Over 1,000 subscribers
About Burton Kramer Associates, 1974
Japanese design magazine Idea profiles Burton Kramer Associates for Issue 123.
Thank you for subscribing to Logo Histories Perspectives. If you enjoy reading this also check out and support these projects from the team:
Logo Histories – Discover the fascinating stories behind great logos.
LogoArchive Website – Searchable modernist logo archive & research tool.
LogoArchive Shop – Vintage design books & LogoArchive Zines.
BP&O – Contemporary design editorial.
---
Discover this and more design magazines here.
---
Burton Kramer Associates, literally drowning in a sea of work, moved recently to larger offices on Prince Arthur Avenue in midtown Toronto. The move required critically sorting through the design files, discarding many samples, keeping some; all of the usual agony associated with the relocation of an office. One result was a mild shock at the quantity of work brought to light. In just over five years the Kramer office had produced a mountain of designs. Work for the Ontario Educational Communications Authority (Channel 19) alone amounted to some 500 individual assignments. And all of them dancing Kramer's delicate dance, a curious yet convincing result of North American and Swiss influences (he has worked in both places; all of them beautifully arranged, exuberant in their use of colour).
'Design is my religion' is a phrase that has occasionally passed Kramer's lips; that is, when he is not laughing at the absurdities of life. He has always been very much involved in a series or systems approach to a great variety of corporate material, working more comfortably within the area of 'informational rather than 'persuasive design' which really explains many of the assignments shown in this article. The intricacies of pattern over pattern, the fugue-like weaving of form against form, the introduction of a blazing type face, the careful combination of photo and typography; this is the vocabulary with which he performs best.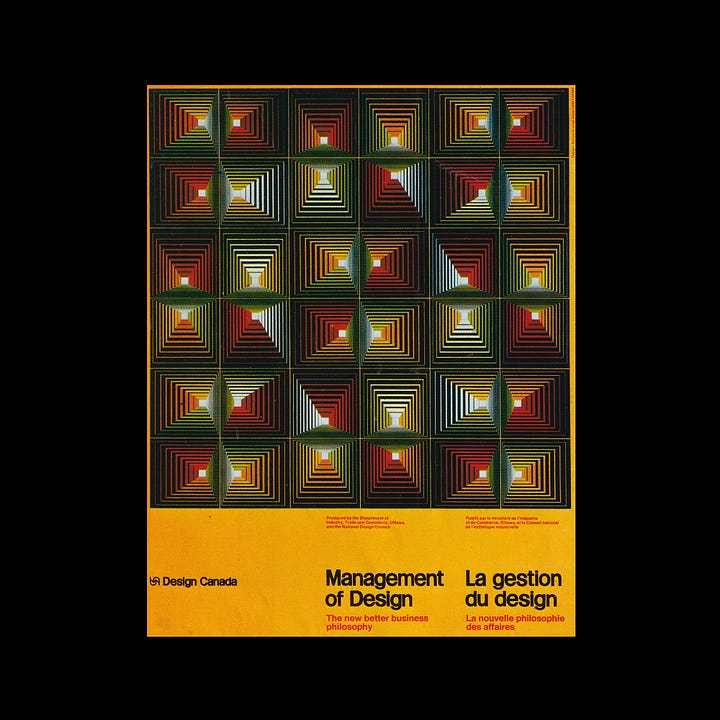 'Winning' is important to Kramer. Awards have naturally followed; most recently for 'Operation Moonvigil (a classroom-oriented learning system kit dealing with organization and survival) which won him a gold medal from the Art Directors Club, Toronto, and also an award from the Learning Materials exhibition of the American Institute of Graphic Arts, New York. During the past five years his office has been the recipient of awards from most major exhibitions in the U.S.A. and Canada as well as receiving publication in numerous international graphic annuals.
Recently, Kramer has been joined by a partner, Allan Fleming, whose work is no stranger to this magazine. Fleming, tall and taciturn, with an international reputation, has also won numerous awards for major design projects like Canadian National and Ontario Hydro. For the past five years his work has been largely in University Press book design.
Logo Histories' Perspectives is a reader-supported publication. To receive new posts consider becoming a subscriber.
In the short time that Kramer and Fleming have been associated they have already received commissions to develop corporate identity programs for Anglo-Canadian Pulp and Paper (one of the Reed Group subsidiaries), the Canadian Broadcasting Corporation (a major plum pulled out of a corporate designers pie: every important design office in the country was interviewed and many asked to submit proposals) and in addition, graphics for the new Prince Hotel in Toronto (a hotel of the international class being built by Japanese interests, their first in Canada). So the Kramer office is moving...upwards and onwards. Laughingly he said the other day in a client research interview, 'We have ways of making you talk!' In point of fact, he has demonstrated many successful ways of making people talk, listen, and keep looking.
---
About Logo Histories' Extra Issue
Logo Histories' Extra Issue unlocks opinion and insights lost to time, buried within the pages of rare out-of-print design books and magazines. Through this series, you'll come to understand the challenges and opportunities corporate identity designers of the past faced to help you better understand design practice of the present. For Logo Histories, click here.