Discover more from Logo Histories' Extra Issue
Unlocking graphic design insights and opinions from the past. Part of LogoArchive.
Over 1,000 subscribers
Design Coordination and Corporate Image, 1967
FHK Henrion and Alan Parkin write on the need for design coordination of corporate image.
If you enjoy reading this article also check out and support these projects:
Logo Histories – Discover the fascinating stories behind great logos.
LogoArchive Website – Searchable modernist logo archive & research tool.
LogoArchive Shop – Vintage design books & LogoArchive Zines.
BP&O – Contemporary design editorial.
---
The following is three sections taken from an extended introduction to corporate image written by FHK Henrion and Alan Parkin for their book Design Coordination and Corporate Image, published in 1967.
---
The need for design coordination
The general aim of visual design is to provide physical forms appropriate to the items concerned. But even though a corporation may have design items of a high standard when taken in isolation, if steps have never been taken to coordinate their design, the corporation's image will almost certainly be weakened. It may be that the corporation's visual design is done by several separate interests - an advertising agency, an industrial designer, a graphic designer, and so on. Each of these may develop his own sub-house-style for his own group of items. The result is several images in conflict: the total number of contacts with people is divided into several sections, which do not support one another.
The strength or weakness of an identification symbol can be strikingly demonstrated by tests using very short exposures or blurred or moving [logo] specimens. Such conditions are rather close to the actual conditions of use for such symbols. Only the strongest symbols register at all, the rest being lost completely. In much the same way a rapid succession of projected slides of a variety of design items quickly distinguishes a well-coordinated set of items from the others. Only repetition on a massive scale of a small number of bold and distinctive characteristics can hope to be noticed and remembered in the chaotic competitive situation.
Again, a corporation which is rapidly growing or merging with others, or diversifying into different fields, may have a false image because its design items have not changed with the new situation. A large, efficient, progressive corporation can appear to outsiders (and even to insiders) to be small or muddled or old-fashioned. Such situations are nobody's fault, simply because it is nobody's job to look after these things. Such corporations do not recognize visual design as an activity to be planned and controlled. Their design is done piecemeal by clerks, jobbing printers, and the last-Chairman-but-one. They are, in effect, sending out representatives dressed in ill-fitting clothes inherited from earlier generations or bought on the cheapest market.
A one-man business is likely to have a natural unity of style since all its activities are expressions of the character of that one man. But a large organization has no natural unity of this kind: it is far too large and complex for such things to fall into place naturally. Coordination in design, as in any other sphere, can only be obtained by deliberate and careful effort.
Logo Histories' Extra Issue is a reader-supported publication. To receive new posts and support my work, consider becoming a free or paid subscriber.
Benefits of design coordination
Design coordination benefits a corporation in two main ways: Externally, it brings the important visual aspects of the image under conscious control. The character of the corporation is thereby clearly and strongly kept before the public. This can in turn be a useful instrument of competition where products or services are almost the same as competitors'. New products or activities can be quickly established by drawing on the fund of an established image. Staff recruitment is easier, and loyalty stronger, in a corporation with a good image.
Internally, it brings all design items into a rationally-planned programme, normally leading to substantial economies in design, print, and other costs. Working conditions and efficiency can be considerably improved by properly-coordinated design of equipment and paperwork.
Many of the problems of design coordination, and their solutions, are specific to the corporation in question, but some follow common patterns which come up time after time.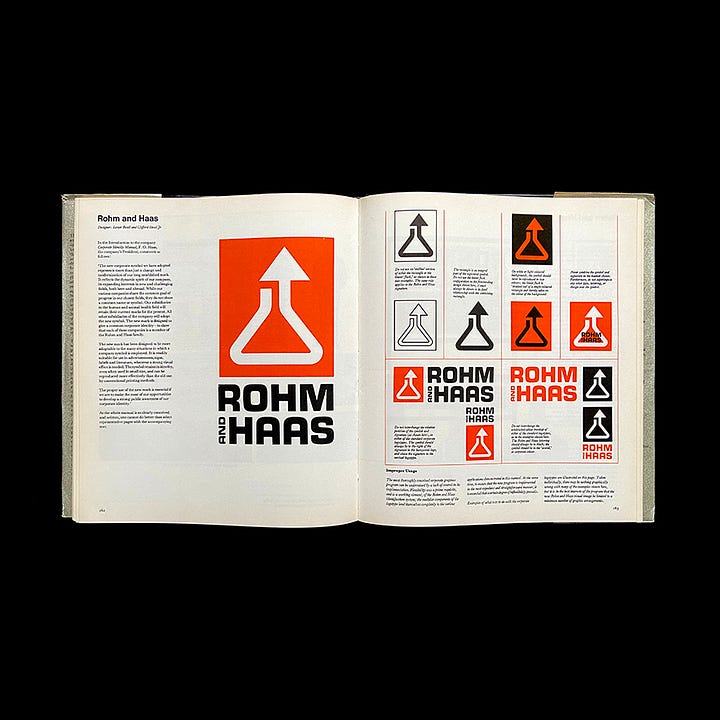 Simplicity
Simplicity, in some sense, is very widely accepted as a general aim in design. Visual simplicity can be defined in terms of number and variety of components. There are good reasons for this pursuit of simplicity on perceptual, psychological, administrative, and economic grounds.
Perceptually, it is well known that, other things being equal, one tends to simplify shapes towards the 'good form' described by the Gestalt psychologists - that is towards smooth, closed, and regular shapes. This tendency is especially marked in adverse viewing conditions of short exposure, poor lighting, movement, competitive surroundings, and low attention level. Such adverse viewing conditions are typical for many design items, especially those used in advertising. It is therefore pointless and wasteful to put detail or subtle irregularity into design beyond a certain level which can be determined from typical viewing conditions. Conversely, a simple design can be reduced to a smaller size than a complicated one, and still be as clear in perception.
Psychologically, it is known that remembering and recognition depend partly on the strength of the initial impact, and partly on subsequent reinforcement. Simple designs can be made bolder, in a given situation, than complicated ones, and so can to that extent make a stronger initial impact. Further, there is less to relate in recognizing subsequent presentations of a simple design than of a complicated one, so reinforcement is to that extent easier. Again, the general surroundings are disorderly and variegated, so a simple design usually stands out by its difference from its surroundings.
Administratively, a simple scheme with few elements, where all situations are catered for, is easier to explain and to enforce. This is often an important factor in getting a design programme accepted and properly applied by staff of the corporation.
Economically, a scheme with few standard elements makes possible great savings in specifying, producing, storing and issuing design items. Longer runs, with grouping of certain production operations, and smaller inventories are usually immediate benefits from design coordination, and continue throughout the life of the scheme.
---
About Logo Histories' Extra Issue
Logo Histories' Extra Issue unlocks opinion and insights lost to time, buried within the pages of rare out-of-print design books and magazines. Through this series, you'll come to understand the challenges and opportunities corporate identity designers of the past faced to help you better understand design practice of the present. For Logo Histories, click here.
Logo Histories' Extra Issue is a reader-supported publication. To receive new posts and support my work, consider becoming a free or paid subscriber.