Discover more from Logo Histories' Extra Issue
Unlocking graphic design insights and opinions from the past. Part of LogoArchive.
Over 1,000 subscribers
Walter Ballmer, 1979
Glauco Felici on Walter Ballmer for Graphis issue 204
If you enjoy reading this also check out and support these projects:
Logo Histories – Discover the fascinating stories behind great logos.
LogoArchive Website – Searchable modernist logo archive & research tool.
LogoArchive Shop – Vintage design books & LogoArchive Zines.
BP&O – Contemporary design editorial.
Logo Histories' Extra Issue is a reader-supported publication. To receive new posts and support my work, consider becoming a free or paid subscriber.
---
WALTER BALLMER, who was born in Liestal, Switzerland, studied at Lucerne and at the School of Applied Arts in Basle. In 1947 he went to Milan to work in the Boggeri design studio. In 196 he joined Olivetti, entering their department of public relations, industrial design and advertising. He has been there ever since, preparing institutional and advertising matter, designing exhibitions in all parts of the world (among them Olivetti Style, Olivetti Innovates and Olivetti Image) and carrying out large-scale decorative murals. His work has been presented in many exhibitions. Among the numerous prizes he has won is a gold medal conferred on him at the Liubliana Bios for his Olivetti Image exhibition. He has been a member of the Alliance Graphique Internationale since 1970. – Editor
Perfection as a synthesis of order, line, geometry, clarity. That is the first impression of an observer confronted by the creations of Walter Ballmer. With perhaps a suspicion that behind the rigorous cadences and rational volumes there lurks a modernist passion for everything technical, cold and changeless. But as so often, the truth belies appearances, or confirms them only in part.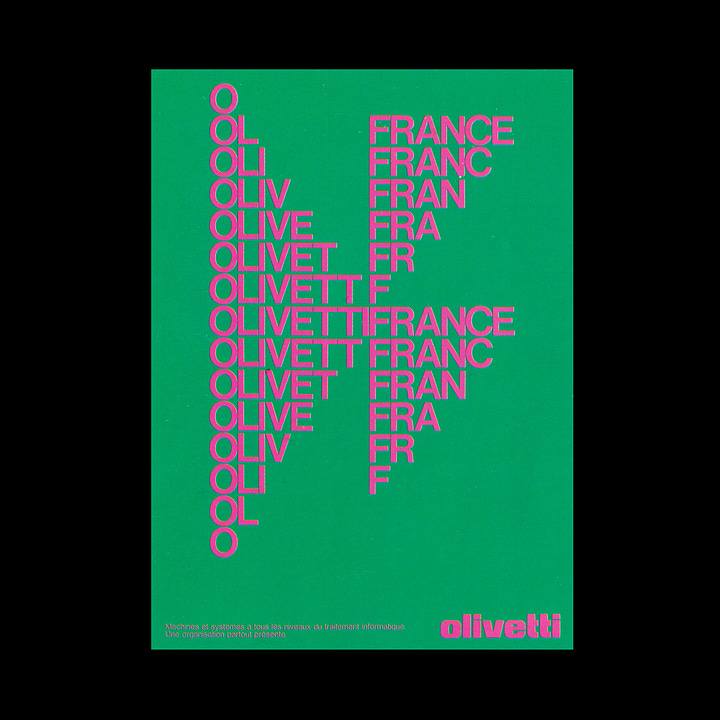 If Ballmer is questioned about his beginnings as a designer, he will admit, without belittling the importance of his schooling, that the decisive impulse came from the example of his mother, whose skills in painting and in all work requiring manual dexterity he always admired. This is the first point of contrast: the man who is so much at ease among the mechanisms of the big industrial complexes, who can find his way through the intricate prefigurations of tomorrow's technology, relies on an ability originally based on craftsmanship and simple manual operations. When he is at work, in a studio of great white spaces with the synoptic name of Unidesign, his blend of logic and imagination is supported by a continuous flow of gestures, of the manipulation of elements he wishes to unite or separate, to incline or displace or turn over, so that the eye can corroborate what the mind already supposes.
In the course of his graphic career Ballmer has encountered numbers of persons, experiences and environments that have left a mark on him: Herbert Matter and his photomontages, the arts and crafts school in Basle, the teachings of the Bauhaus, Hermann Eidenbenz, Hans Erni (who persuaded him to choose Milan rather than Paris), the Boggeri studio, Max Huber, Adriano Olivetti and the exceptional experiment in industrial organization that he envisaged, the 'neue Grafik', Visual De-sign', a few Italian graphic artists (Munari, Grignani, Sambonet, etc.).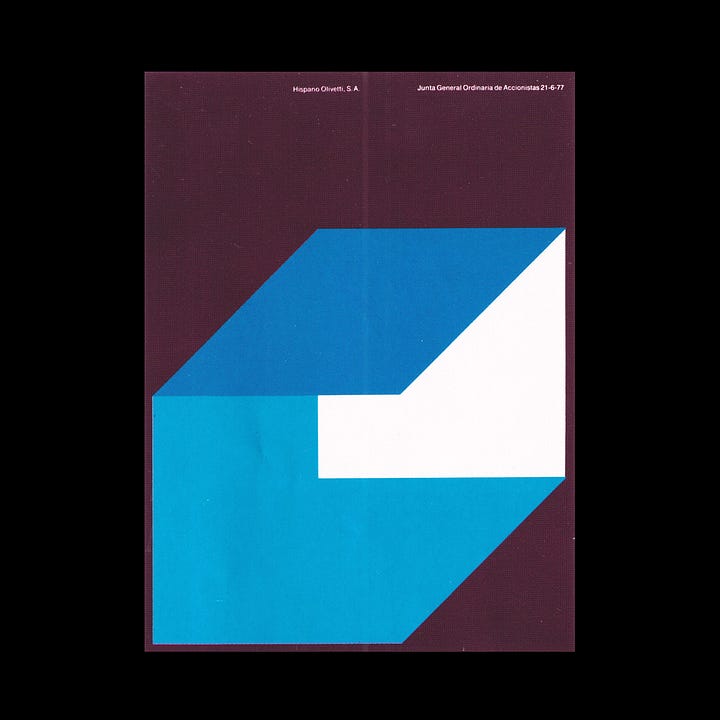 But Ballmer was enriched by these contacts without undergoing any change in his own style or opinions. He has a theory which he would be most probably hard put to it to formulate but which--to judge by his work-he can practise without any difficulty; and Ballmer applies it, pursues it and perfects it in various fields.
Another point of contrast: one might expect that Ballmer's will to perfection would carry him to the extreme of specialization. In reality he takes a pride in his professional ability to maintain the same high standards in designing a trade mark or an exhibition, in conceiving and carrying out a corporate image, in painting, in making a layout for a poster or an advertisement.
At this juncture we can risk a hypothesis. The vitality of Ballmer's work originates in the tensions of his own personality. He is happy only with a task that constitutes a challenge, that cannot be reduced to routine procedures. Ballmer can interpret and put life into every situation, from the concrete reality of mechanical equipment to the cold precision of electronic systems and the frivolities of fashion.
Himself a technician of communication, he is sure of the usefulness of transmitting his experience to the young people of the school of design at which he teaches. Communication works both ways, and the past master admits that he too receives feedback from his contact with these young people. This, then, is another stone in the mosaic: everything can be taught, and no one has ever finished learning. The realization is a tribute to the modesty of Walter Ballmer, who has already created a universe of images but is convinced that he is only on the first lap of an immense programme of research, with no end as yet in view.
---
About Logo Histories' Extra Issue
Logo Histories' Extra Issue unlocks opinion and insights lost to time, buried within the pages of rare out-of-print design books and magazines. Through this series, you'll come to understand the challenges and opportunities corporate identity designers of the past faced to help you better understand design practice of the present. For Logo Histories, click here.
Logo Histories' Extra Issue is a reader-supported publication. To receive new posts and support my work, consider becoming a free or paid subscriber.